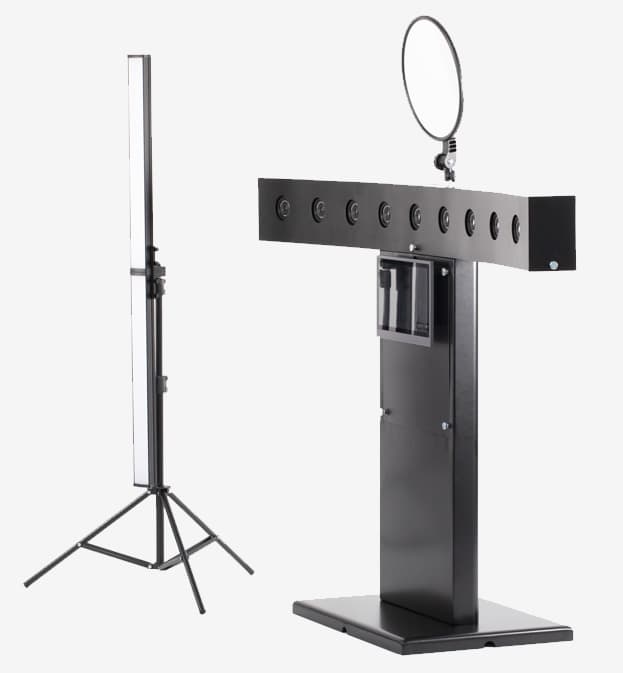 Capture 3D freeze-frame moments in a gorgeous moving image that your guests will fall head-over-heels for.
Featuring a curved design, an easy one-click trigger system, and a contained design, the camera array rig is simple to set up, run and provide an unforgettable experience.
Everything You Need to Know About the Camera Array
Watch this video Of Dreambooth's Kathryn explaining how to use the system.
Create Breathtaking Moving Content
Effortlessly create amazing matrix-style videos using the Camera Array. Our software is designed for fast processing and minimal input. 
The Camera Array is at home in events ranging from weddings to corporate activations, producing awesome content for users to share.
Be the envy of all your would-be customers: utilise the social media of your users as free advertisement in a win-win scenario: they share gorgeous moving content, and your branded outputs show your company name in all its glory.
This is the perfect solution to corporate events driving engagement, or social media savvy brides and grooms.
Press. Shoot. Share. It's as simple as 1-2-3, and you only need to press one button. 
Our in-house developed solution allows you to fire all the cameras at once, or to trigger one camera after the next, creating a gorgeous moving shot.
This one-click solution makes the experience of running the event hassle-free and smooth, also giving you the option to run the event with one staff operator.
The Camera Array features a painless set-up, allowing you to be at the ready as soon as possible.
Our components are manufactured in the UK to guarantee quality and peace of mind. We keep things reliable and trustworthy for you.
With unlimited training sessions after each, you can be sure you've got the help you need if there's something forgotten from the initial training.
Make your mark with the Camera Array. Physical and digital branding is simple, but extremely effective. 
Vinyl wrapping allows the Camera Array to draw attention and intrigue, while catering to any event.
Brand your moving content with overlays, and add intro/outro clips to your content to make it unforgettable.
Here at Dreambooth we believe in world class support. We have a full support team who can answer all the questions you might have about the Camera Array photo booth, giving you true peace of mind at an event.
We can support you online by phone, online chat, email, or WhatsApp.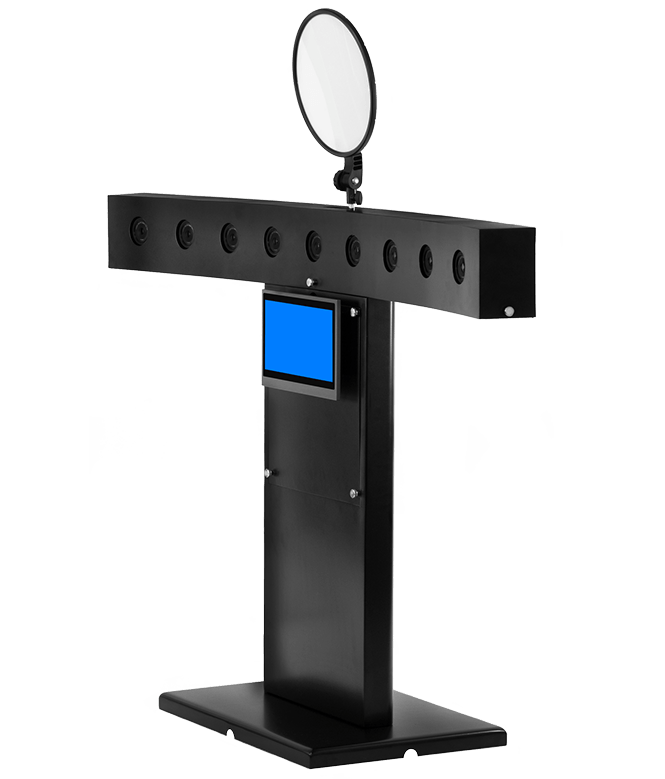 9 Camera Array Rig
Spigots to Accept Your Lighting
9 x Tilting Camera Supports
Access to Marketing Materials
You add yourself
CPU, DSLR Cameras, Accessories and cables, Lighting, Screens, Software License
Limited Time Prices now available
We are expecting a flood of events after the coronavirus outbreak settles down.
Enquire now to secure these amazing, time limited offers.
Now is a perfect time to invest and build your brand around new products!
Huge ROI potential – pay off the investment in only two events!

The Trigger
Durable Synchronised or Sequential Trigger
Fire up to 9 DSLR Cameras and Flash
Fully Wireless
The Cameras
We support most Canon DSLR
We supply 9 x Canon 1300Ds
CANON EF-S 24 mm f/2.8 STM Camera Lense
The Monitor
We support most Vesa mounted touchscreen (max 13″)
We supply Liliput 13″ HD Touchscreen
1920 x 1080 Resolution
The PC
i7 Processor, 8GB RAM, 256GB SDD
Windows 10
Wifi/Ethernet Connectivity

Dimensions and Weight
1170 (H) x 1700 (W) x 500 (D) MM
Weight : 35KG
Footprint : 1700 (W) x 500 (D) MM
Shipping Dimensions : Depends on method of shipping
Shipping Weight : 120KG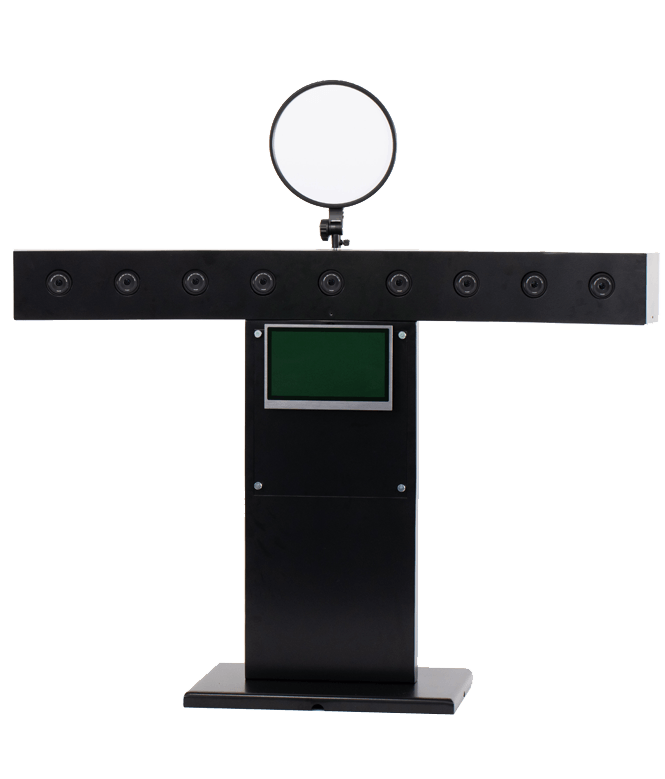 Power Requirements
Low power design allows the system to be used for indoor and outdoor events via mains or generator.
Power Draw : 150W MAX
Power Input : AC 120/240V
Connection : International Plug (IEC C13) for Single Mains Connection
We can supply software as an optional item if required
35KG it total, and you carry it in 3 separate parts, so its even lighter to carry!
Any Canon EOS – just make sure they are all the same.
The base plate, upstand, and the section holding the cameras are all transported separately. Each piece comes in its own custom road case with wheels for easy movement.
We recommended a minimum of 2.5 metres between the Camera Array and the subject.
We like to use the circular LED panel pictured below. If your room is super dark you may want to add some extra panels either side of the unit too.
We ship anywhere in the world.
The Camera Array is powered by an IEC cable, so you just need to add the corresponding cable for your own country.
Of course! If you choose the software and support option, we will show you how to do this on your training session.
We recently added a sequential trigger. So, you can do both synchronous (all of the cameras fire at the same time, or sequential (the cameras fire a few milliseconds apart). Both create different looking GIFs so you can spice things up!
Yes, if you add software from us you can add animated overlays or static. Both look great.
If you use Dreambooth's recommended software for sharing, the email and SMS shares will queue so that when you reconnect to WiFi they will send.
Using our recommended sharing software, add an iPad to the system so you can share to Facebook, Twitter, Instagram, Email & SMS. The GIF wirelessly pings from the Camera Array to the iPad in a matter of seconds!
As the system breaks down into 3 pieces, it's actually pretty compact. The biggest section to fit in your car is where the cameras are housed. Here are the dimensions of this section so you can measure:
1700cm (L) x 180cm (H) x 130cm (D)
We only sell the Camera Array – you can rent from any one of our awesome customers!
Sure. That's why we have built the Camera Array using an odd number of cameras, so you can provide a print from the middle camera!